1rst factory . Breganze, via Castelletto, downtown. 1947 – 1973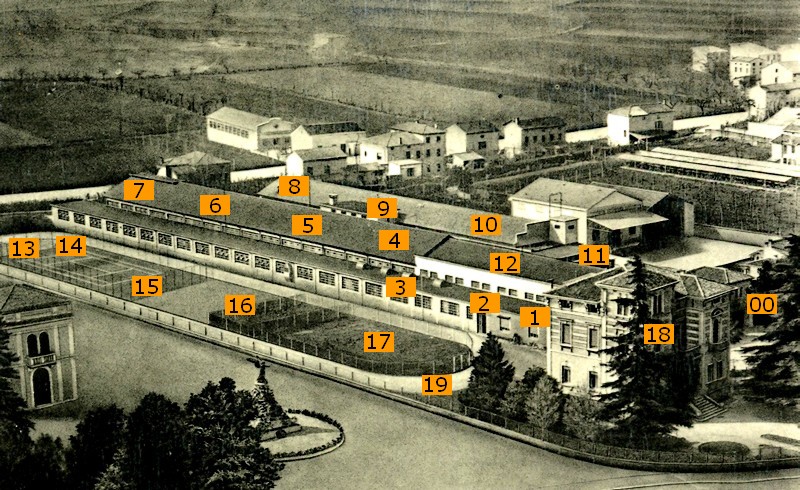 | | |
| --- | --- |
| 1- Administrative offices | |
| 2- Technical and industrial design offices | |
| 3- Painting | |
| 4- Chassis assembly | Visit |
| 5- Engines assembly | Visit |
| 6- Aluminum work | |
| 7- Fundry | |
| 8- Welding dept. | |
| 9- Dept. Shearing machine-Fold sheet metal | |
| 10- General warehouses | Visit |
| 11- Shipping | |
| 12- Turners/adjusters | Visit |
| 13- Test bench (since 1965) | Visit |
| 14- Dept. design and modeling prototypes (since 1965) | |
| 15- Dept. tooling and prototypes (since 1965) | Visit |
| 16- Gear and transmission dept. (since 1965) | |
| 17- Thermal treatments (since 1965) | |
| 18- Francesco Laverda family house | |
| 19- Test track | Visit |
| 00- Entrance hall | Visit |
2nd factory . Breganze industrial zone. 1973 – 1990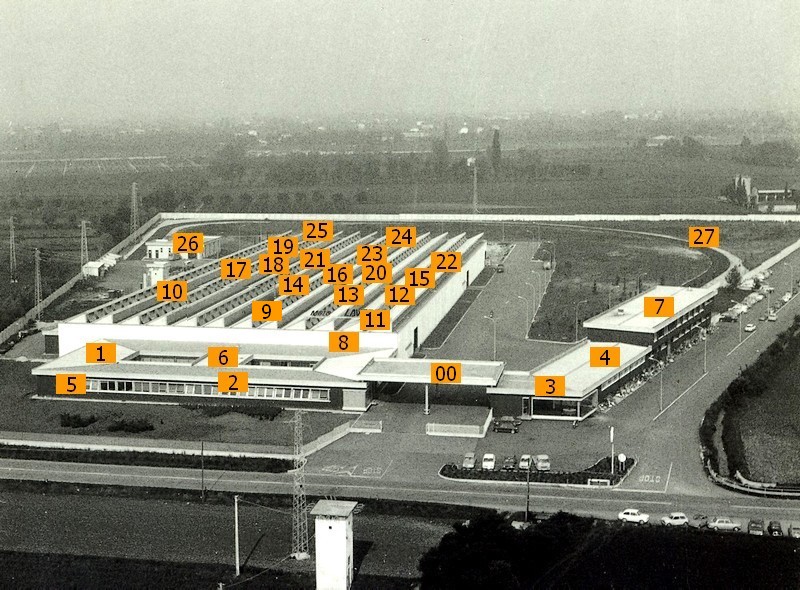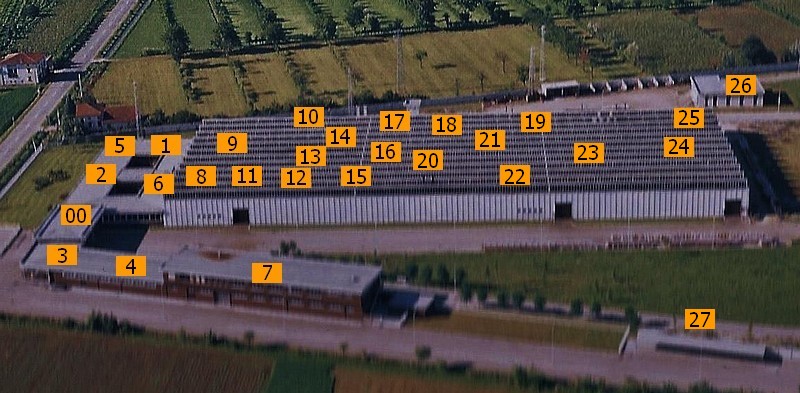 | | |
| --- | --- |
| 1- Technical and industrial design offices | Visit |
| 2- Administrative offices | Visit |
| 3- Spare parts store | |
| 4- Spare parts warehouse | |
| 5- Massimo Laverda office | Visit |
| 6- Piero Laverda office | |
| 7- Canteen | |
| 8- Dept. modeling/concept prototypes | |
| 9- Dept. tooling and prototypes | Visit |
| 10- « Famous Hall of Secrets » (prototypes secret room) | |
| 11- Dept. quality control | Visit |
| 12- Metal warehouse | |
| 13- Turners | Visit |
| 14- Aluminum work | Visit |
| 15- Thermal treatments | Visit |
| 16- Engines assembly | Visit |
| 17- Preparation painting | |
| 18- Painting | Visit |
| 19- Painting oven | |
| 20- Machining adjutments | Visit |
| 21- Chassis assembly | Visit |
| 22- Gear and transmission dept. | |
| 23- General warehouses | Visit |
| 24- Shipping dept. | Visit |
| 25- Final tests | Visit |
| 26- Test bench | Visit |
| 27- Test track | Visit |
| 00- Entrance hall and space | Visit |
With the great help of M. Gianni Sperotto, former Laverda factory employee, many thanks for his precious help!
This page of history, history that still unites the Laverda owners all over the world, is dedicated to Massimo and Piero Laverda, and also to all the people who have worked in these factories, those who have contributed to make us so enthusiastic and who definitely wrote a part of our existence.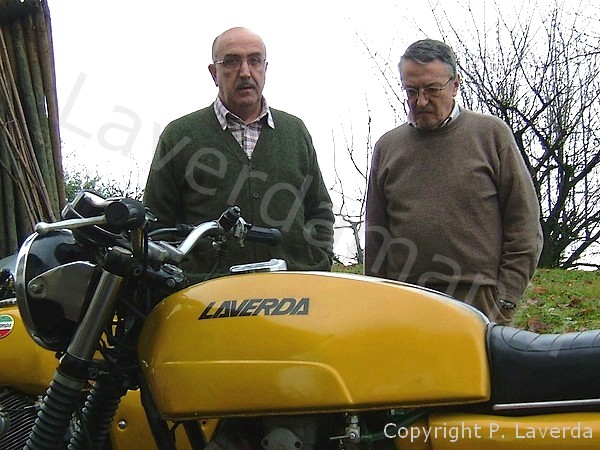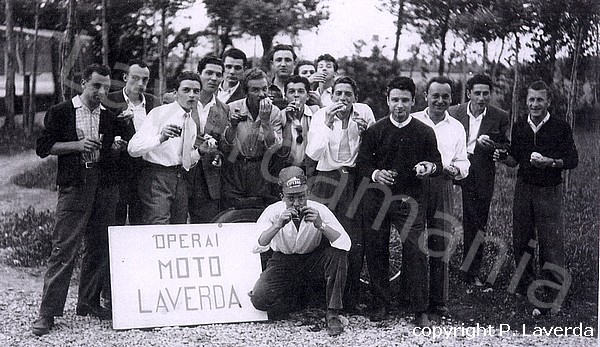 About pictures
All the pictures shown in this pages have been kindly supplied by M. Gianni Sperotto, former employee at the factory (Modeller-maker/builder, prototypes dept.) As time flies, the rights of some of these photos have been subjected to confusion, have been lost or even have been stolen.
It has even been noticed that some pictures had been sold without any rights on merchant web sites or elsewhere.
To protect these pictures against such practices, it has been decided to print a watermark on each of them. This mark is in no way a property title but a simple and practical way to protect the photos and their authors, and avoid that they could be used for commercial purposes at the expense of the authors.
In the case that some people think that they are the authors of some of these pictures, and can prove it, thanks to contact us so we can mention the copyright, or modify or cancel them if the author wants to do so.
Of course, we are deeply interested in any picture of the Laverda factories, so many thanks in advance to anybody who would like to help us to complete the collection, with the aim to allow to each enthusiast of the marque to revisit places with nostalgia or to plunge into the unique atmosphere of the Laverda motorcycle factories!